---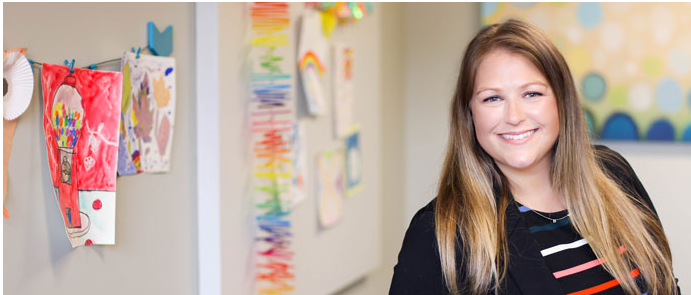 Kids First's Spirit of Minnie Rubek honoree is Laura Martin, LISW. Laura has helped thousands of separated parents coparent together and has been a pivotal partner in supporting Kids First and the community as we grow.
For seven years, Laura Martin, LISW, has singlehandedly managed Kids First's joint parenting program. In joint parenting sessions, Laura works with separated parents to improve their co-parenting by helping them find common ground, reduce conflict, and improve communications regarding their children. Laura handles all facets of the program from the first inquiry to the final parenting plan and everything in between. She does it all with an uplifting attitude and positive outlook. Since the pandemic halted in-person meetings, Laura quickly pivoted to hosting mediations on Zoom. These online sessions allowed her to expand her services statewide and reach even more parents and families. As Laura found a common need among parents, she developed a toolbox of resources to help parents work on cooperative communication. This past year Laura held a webinar series inviting therapists and social workers to learn more about how to interact with the legal system. Laura is constantly looking for ways to raise awareness about Kids First and make sure families are connected to needed services. Laura is the first person to connect callers and Kids First clients with services curated to their specific needs, whether it's a local therapist fluent in an obscure language or a program for a parent struggling with a personality disorder. Laura keeps connected with local social services through her vital role on the Community Accountability Board and the Client Services Advisory Committee for the Department of Correctional Services.
About the award: The Greater Cedar Rapids Community Foundation honors nonprofit employees (leaders or staff members) or founders of Linn County nonprofit organizations each year with a Spirit of Minnie Rubek recognition at its annual Nonprofit Party event each fall. The recognition goes to a nonprofit professional who has gone "above and beyond" in their commitment and dedication to their organization and its mission, thereby enhancing the overall effectiveness of the organization. They exhibit the spirit of Minnie Rubek in their nonprofit work.
Minnie Rubek is an unsung heroine of our community and an important person in the history of the Greater Cedar Rapids Community Foundation. Minnie worked as a member of the housekeeping staff at Interstate Power and Light for many years. Upon her passing, she left her estate to the Community Welfare Fund—the predecessor of the Community Foundation—in what was a transformative gift for the organization and the greater community. Her work and dedication over many years made a lasting, albeit quiet, impact on the community as a whole.
---
Tags
Categories