Volunteer
Volunteers help us carry out our mission more efficiently. We are grateful for the support from our community and welcome your interest in the opportunities below.
Neutral Exchange Facilitator
Kids First serves as a neutral exchange location for parents who need help exchanging their children peacefully. Trained volunteers can assist with these exchanges, which occur on weekdays and weekends. Fortunately, our current volunteer needs are being met.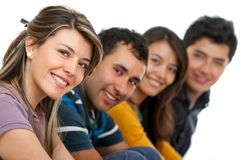 Divorce Workshop Co-Facilitator
Kids First staff lead the divorce workshops with the assistance of a trained volunteer. In this role, volunteers work directly with children to help them understand and cope with their parents' separation and divorce. Volunteers can lead a variety of games, discussions, role-plays, read-aloud sessions or activities as they feel comfortable. Each 2½ hour workshop has 8-10 children, and there are separate classes for grade levels K-2, 3-5, 6-8 and 9-11. You will be able to positively impact children in a very direct way by helping with the workshops.
Workshop volunteers must pass a background check and be fully trained.
Contact Jennifer Koester at 319-365-5437 or by email to receive more information about this opportunity in Linn or Johnson County. (Fortunately our current needs for Workshop Co-Facilitators are being met.)