Joint Parenting Sessions
Parenting with an ex may pose challenges. Parents can attend free joint parenting sessions with their ex at the Kids First Cedar Rapids location. A professional facilitator guides conversations about child-related topics.
Sessions help parents:
Find common ground
Reduce conflict & improve communication
Resolve parenting time disputes
Craft parenting plans
Our unique child-centered approach helps keep kids out of the middle and parents moving forward.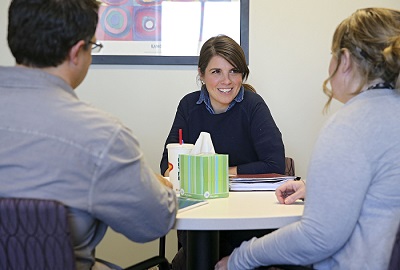 What happens in a session?
Kids First ensures each session is productive by keeping parents focused on specific child-related concerns, by encouraging respectful dialogue, and by identifying child-focused solutions when parents reach an impasse. When parents reach an agreement on any issue, Kids First will provide a written summary of the parenting plan. Parenting plans are tailored to children's needs and individualized to a particular family.
At either parent's request, the Kids First facilitator can provide information or resources related to parenting across households.
If both parents agree, Kids First can meet separately with the school-aged children in the family to obtain children's input.
Who can attend sessions?
Kids First can help parents who live separately and have minor children (ages 0-17) together. Parents may be divorced or never married. They can take advantage of these free services whether they have a custody order or not and whether there is a court case pending or not.
Kids First is able to accommodate parents with a No Contact Order by having separate parking lots, entrances/exits to the building, and separate meeting areas. We ensure parents do not have any contact physically or visually.
This program is not available to parents whose children are in foster care or to parents whose children have been represented by Kids First.
At this time our joint parenting program is available at the Cedar Rapids location only.
How do I sign up?
To inquire about services, complete this form online or call Laura Martin at Kids First at 319-739-5430.
Sessions help parents:
Find common ground
Reduce conflict & improve communication
Resolve parenting time disputes
Craft parenting plans