---
At Kids First, we help prepare children for a successful adulthood by teaching them social-emotional skills. Whether it is teaching children in divorce workshops the importance of talking about their feelings with their parents, helping middle school students resolve conflict, or counseling child clients how to self-advocate, these are all important parts of social-emotional development.
Our commitment to children's social-emotional learning has been reaffirmed by a newly released report by the Aspen Institute called "From a Nation at Risk to a Nation at Hope." It documents a growing movement across America dedicated to the social, emotional, and academic well-being of children. On the strength of its remarkable consensus, a nation at risk is finally a nation at hope.
The introduction to the report states in part:
"Children learn best when we treat them as human beings, with social and emotional as well as academic needs. As one teacher put it, 'I don't teach math; I teach kids math.' To reach a child's mind, we must be concerned for the whole person.
Social, emotional, and academic capacities are increasingly demanded in the American workplace [8 in 10 employers say social-emotional skills are the most important to success and yet the hardest to find], which puts a premium on the ability to work in diverse teams, to grapple with difficult problems, and to adjust to rapid change.
The promotion of social, emotional, and academic learning is not a shifting educational fad; it is the substance of education itself. It is rooted in the experience of teachers, parents, and students supported by the best educational research of the past few decades. More than nine in 10 teachers and parents believe that social and emotional learning is important to education. At least two-thirds of current and recent high school students think similarly. As one student said, 'Success in school should not be defined just by our test scores … but also by the ability to think for ourselves, work with others, and contribute to our communities.'
It is a mistake to view social and emotional learning as a 'soft' approach to education. Quite the opposite. An emphasis on these capacities is not the sacrifice of rigor; it is a source of rigor. While many elements of a child's life improve along with the cultivation of these skills, one of the main outcomes is better academic performance. An analysis of more than 200 studies of programs that teach students social and emotional skills found that these efforts significantly improved student behavior, feelings about school, and most importantly achievement, and made schools safer.
This approach to learning also contributes to educational equity. As this report documents, social and emotional learning benefits all children, of every background. But it disproportionally benefits children from low-income communities, many of whom experience trauma and adversity resulting from insecure access to housing, food, health care, and safety. All students need supportive relationships and nurturing learning environments, but students facing additional stress have a particular need to be surrounded by caring adults who treat them as individuals with potential and inherent worth."
To view the full report, please visit www.nationathope.org.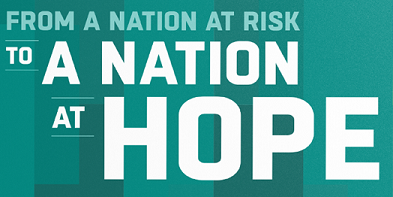 ---
Tags
Categories