---
We have had to postpone our May 14th Happy Hour event – but we can't
postpone HAPPY!
At Kids First, we stay optimistic as we work with families and kids in conflict because we know there can always be a happy ending.
So as we patiently (and not so patiently) wait out the Covid-19 crisis and postpone Happy Hour, we want to keep happy in circulation. You can help in two ways:
1. Please send us a photo or drawing of something that makes you happy. Maybe it's your kids cooking, you in the garden, or your pet hamster. We will post the pictures we receive on our website and Facebook page. We'll also display them at the Happy Hour event this fall (stay tuned for a date!). Please send your picture to KidsFirstLawCenter@gmail.com
2. If you can, purchase a gift card to your favorite locally owned business to donate to Kids First's Happy Hour auction this fall. This will give businesses needed liquidity and will give kids needed help.
We're sorry to miss seeing you this spring, but we look forward to getting together in the fall. In the meantime, thank you for helping us keep happy!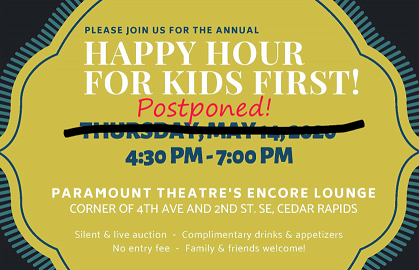 ---
Tags
Categories